plant for the production of biomethane from organic waste
Biogas Engineering Srl is the company that designed and built the first plant in Central-Southern Italy for the production of biomethane, using an advanced technology able to transform high-density organic matrices into biogas.
The plant was built in Calabria in the province of Cosenza at the Calabra Maceri and Servizi Spa plant, a leading company in integrated waste management in southern Italy, which processes around 750 tons of waste per day, of which 80 % are destined for recovery as a raw material.
The anaerobic digestion plant is fed with 40.000 tons of organic fraction from differentiated collection, with this plant we have maximized the use of organic waste, turning it into a resource.
The biogas produced is sent to the upgrading system (with membranes), where biogas is converted into biomethane.
The biomethane produced is introduced into the national natural gas network and used for transport. read more >>>
ALL THE TECHNOLOGY IN A CONTAINER
Biogas Engineering, has designed and built a new system called "Container System", where inside a container there is enclosed all the main technology for the operation of the biogas plant, is a simple solution, easy and quick to install, thus considerably reducing the realization times, maximum 4 months and your biogas plant is ready... read more >>>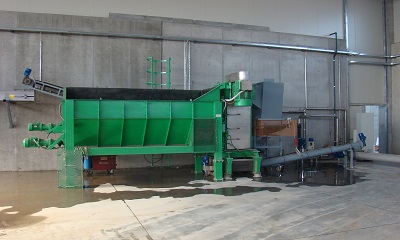 The main objective of our Separator (BESC) is to obtain pumpable material free from plastic and other materials to supply the digesters.
Our BESC is designed to collect the organic material particularly suitable as fuel to ensure efficient operation of the biogas plant, with the task of carefully removing any plastic... read more >>>
Thanks to this pilot plant, we can determine the yield of biogas on various feed mixtures in order to ensure reliability and then proceed to the actual design of anaerobic digestion plants... read more >>>
To ensure optimal operation of the plant Biogas Engineering offers a support service, our technical staff is avaiable to the customer 24h-24h.
Also provides assistance to biogas plants outside its achievements, of any type and power supply... read more >>>
If you are interested in making biogas/biomethane plant ask us for a quote without any obligation.
For any information and / or clarifications regarding our plants, products, technology we use, realizations or other, do not hesitate to contact us, please enter your details in the form below and one of our technicians... read more >>>
Discover the range of our products, if you want information about contact us, we are at your disposal.